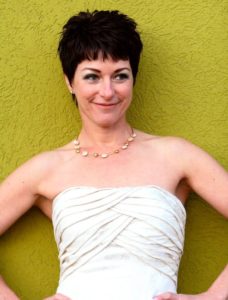 12:00 pm
"Navigating the Dating World"
Where to begin
Online tips
Doing something different
---
2:00pm
"Lets play with your Mojo!!"
Attraction and Attracting
Flirting 101
Confidence
---
4:00pm
"The Magic of Love"
Being lovable and loving
The power of saying YES
Vulnerability
---
Patti Lafond Miller, (AKA Cupid) Certified Matchmaker, Date Coach and First Date Expert.
She became a Certified Matchmaker in 2007 when she and her husband,Chuck Miller, opened  the business, "Meet Me for Lunch" located in Anchorage, Alaska.
As a Matchmaker, Patti meets with each person to connect and understand their relationship history, lifestyle and future desires for love.  If you ask Patti, how she matches people together, she would say with smiley eyes, "My Matchmaking style is Magical and Intuitive, I just know."
Over the years as a Matchmaker, Patti created 100+ marriages and saved many relationships. She has always had a curiosity about love and what makes it last. This curiosity lead her to helping people find each other through speed dating events, The Red Heart Revolution, single mingles and many other activities. Over the years she created 907 Singles and grew a singles Meet-up group of 1,500+ members.
 She was a guest on "Good Morning America", talking about the abundance of men in Alaska and promoting her "Meet me in Alaska" tours for singles women. One of her favorite sucesses was partnering with the State of Alaska, division of Tourism; She created and led a 5 day tour of Alaska with the Alaska MEN for 4 female writers with  Cosmopolitan magazine for a featured story about New York Women going to Alaska to meet men!
On a personal note; Patti, is traveling the world experiencing the many relationships with our earth, the Universe, the people, plants and the amazing animals.
Most recently, Patti became a licensed Access Consciousness Bars Facilitator. She will be announcing this in February 2018 on www.CelebrateEase.com.
Love happens….
Patti Lafond Miller, CMM
Meet me for Lunch LLC